2023 Holiday Shopping: More Online & Optimistic
The holiday shopping season is expected to reach record levels of between $957 and $966 billion, according to the National Retail Federation (NRF). That's a growth of 3% to 4% over 2022 holiday spending. The NRF also predicts a larger percentage of 2023 holiday shopping will be done online and through other non-store sales.[1]
Holiday Spending
Causeway Solutions' recently completed November 2023 survey reflects the NRF's holiday shopping forecast. We asked more than 800 adults aged 18+ through our online survey, "Thinking about spending on gifts, do you think you will spend more, less, or about the same as a typical holiday season?"
Despite economic uncertainties, 62% are spending the same as last year on holiday shopping while 7% plan to spend more. Although 31% plan to spend less, that is down from last year where 43% said they would spend less.
| Holiday Spending | 2023 | 2022 |
| --- | --- | --- |
| More | 7% | 4% |
| Less | 31% | 43% |
| Same | 62% | 53% |
*Source: Causeway Solutions November 2023/October 2022
Holiday Shopping Starts Now
The most popular time to shop for holiday gifts is between Thanksgiving and Christmas at 38%. But as many as 20% have already started shopping. In fact, adults 45+ are more likely than other age groups to start shopping before Thanksgiving.
To reinforce the growing trend for online shopping as many as 21% will shop on Black Friday, and 8% on Cyber Monday, which is slightly higher than last year.
| When do you do your shopping? | 2023 | 2022 |
| --- | --- | --- |
| Before Thanksgiving | 20% | 26% |
| Thanksgiving Day | 1% | 1% |
| Black Friday | 21% | 15% |
| Cyber Monday | 8% | 5% |
| Between Thanksgiving & Christmas | 38% | 40% |
| Super Saturday | 1% | 0% |
| Christmas Eve | 1% | 1% |
| Last minute | 2% | 2% |
| Don't shop | 8% | 10% |
*Source: Causeway Solutions November 2023/October 2022
Holiday Spending & Economic Outlook
We wondered if consumers' feelings about the economy influences how they are planning to spend during the holidays. When comparing year over year, we found shoppers are feeling more optimistic this year compared to last year, 13% rated the economy "good" in 2023 compared to 8% in 2022. Of those surveyed, 46% rated the economy as negative in 2023 compared to 58% in 2022.
Age profiles show adults aged 18-24 are the most likely to say they will spend more, while those who are spending less are evenly distributed by age.
Not surprisingly, consumers who plan to spend more on holiday shopping this year are also significantly more likely to feel good about the economy. Those who rate the economy at the top of the scale are twice as likely to say they will spend more at 18% versus 7% of the general population.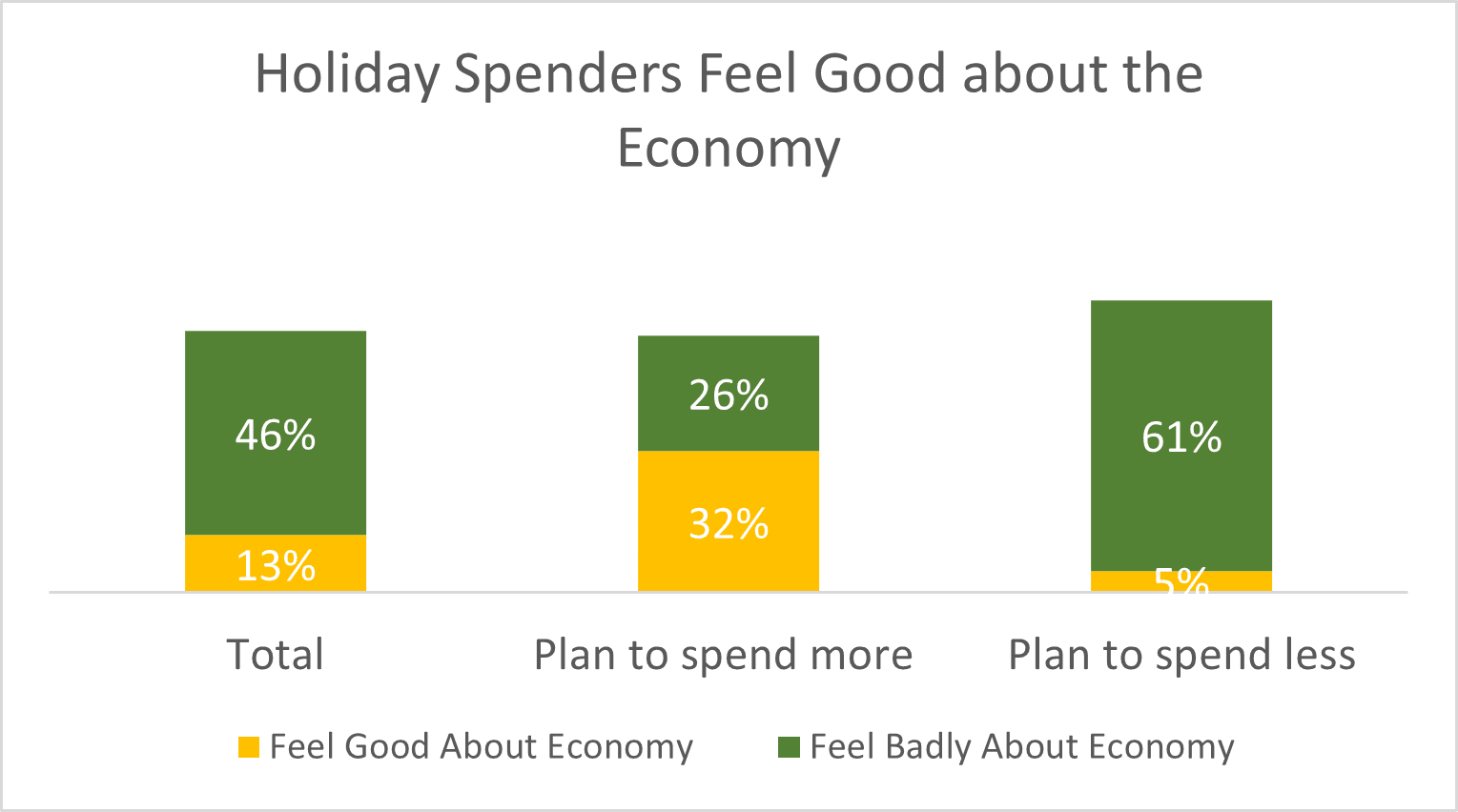 *Source: Causeway Solutions 2023
What are holiday shoppers buying?
The majority of consumers (64%) plan to buy something for themselves or their households while shopping this holiday season, according to a recent Gallup poll. For gift items, they're buying apparel and accessories, as well as gift cards. The study also found that Black Friday and Cyber Monday are more popular with younger adults.[2]
The results of our survey show a similar trend for Black Friday. For adults 18-44, 30% plan to shop on Black Friday, compared to 21% of adults 18+, while only 13% of adults 55+ will battle the crowds. As for Cyber Monday, adults aged 18-24 are the most likely to shop on this day at 14%.
Whether you're shopping online or procrastinating, the Causeway Solutions team sends best wishes for peace, comfort and joy this holiday season. Thank you to our clients and partners as we look forward to a bright New Year!
*About Causeway Solutions' Monthly Surveys
Causeway Solutions has conducted a monthly online survey of U.S. Adults 18+ for more than 3 years. The data offers snapshots into consumer attitudes and behaviors, which support industry trends. Insights include optimism about the economy, plan to purchase and media usage. Causeway Solutions offers key industry profiles, including healthcare, entertainment, sports, travel, restaurants and more. The most recent survey was conducted September 9-13, 2023, with 838 Adults 18+ completing the online questionnaire.
Thérèse Mulvey is Vice President of Strategy & Insight at Causeway Solutions, a leading provider of Acquisition Analytics and innovative data services. Thérèse has worked in media, including television, newspaper, direct mail and digital, where she successfully translated consumer data into insights that address key business issues. She has over two decades of success driving profit, growth and market expansion through the strategic optimization of marketing analytics, research and business development. Causeway Solutions empowers clients to make smart, timely, data-driven decisions through real-time consumer insights to better reach target audiences. Learn more at CausewaySolutions.com.
Sources:
[1]: "2023 Holiday to Reach Record Spending Levels," National Retail Federation
[2]: "Shoppers Plan to Buy for Themselves This Holiday Season," Gallup
To learn more, visit Causeway Solutions to get started!