Connect with Causeway: Jamie Eppler
Jamie Eppler joined Causeway Solutions as Manager of Insights in April 2023. She spent most of her career in Healthcare Analytics, Policy and Product Solutions. At Causeway, Jamie works with enterprise clients by helping them translate data into actionable strategy.
In our latest Causeway Cribs, check out Jamie's hometown.
1. How long have you worked at Causeway?
Since April 2023

2. What would you say…you do here?
I work with enterprise clients to translate data into an actionable strategy.

3. What is your most memorable experience at Causeway?
Cliché, but my entire time at Causeway so far has created new core memories. Through my extensive experience with data, I'm learning so much about industries with which I never thought I'd be involved!

4. Where do you live and what is one thing you love about it?
I'm still in the Philly burbs and I love the proximity to both city and beach life.

5. What is the best gift/kindest gesture you've ever received?
Any and all food. Potlocks, buying me lunch, sending me freezer meals. Food warms by heart and soul!

6. Why Causeway?
I came to Causeway by way of a referral from Tim Duer, with whom I used to work in a past life. I stay at Causeway because the depth of the bench and the amazing market opportunities.

7. Favorite Trip?
My honeymoon to Vancouver, BC. I can't wait to go back!

Causeway Cribs: Jamie Eppler
Where is your Causeway Solutions home office located? How long have you been there?
I'm in the Philly suburbs where I was born and raised!
What is unique about your home or location compared to the homes of the rest of the company?
I can hear and see military helicopters securing the airspace when President Biden is in his home state, which is quite frequent.
What is your favorite thing about your home or location?
I love the proximity to Philly, NYC, and Baltimore. I'm also only a 2.5 hour drive from the Jersey coast, as well as Maryland beaches (#OCMD!) I definitely take my hometown for granted, so when I travel, I always gain a new respect.
Location Analysis
Jamie, like most of us at Causeway Solutions, loves food and eating out, so we analyzed the restaurants and food sources in Jamie's area. Using this heat map, we can see which locations near Jamie make the most amount of food per year in tons!
The nearest restaurant or café where Jamie lives averages around 12.8 tons of food per year.
Within a few miles' radius of her neighborhood, all the restaurants/cafés on the map show an average of no less than 8 tons of food made per year.
The largest amount of food made near Jamie's neighborhood is a location with 4 food sources that together produce 53 tons of food in a year. Hopefully, that amount of neighborhood food can warm Jamie's soul for the entire year!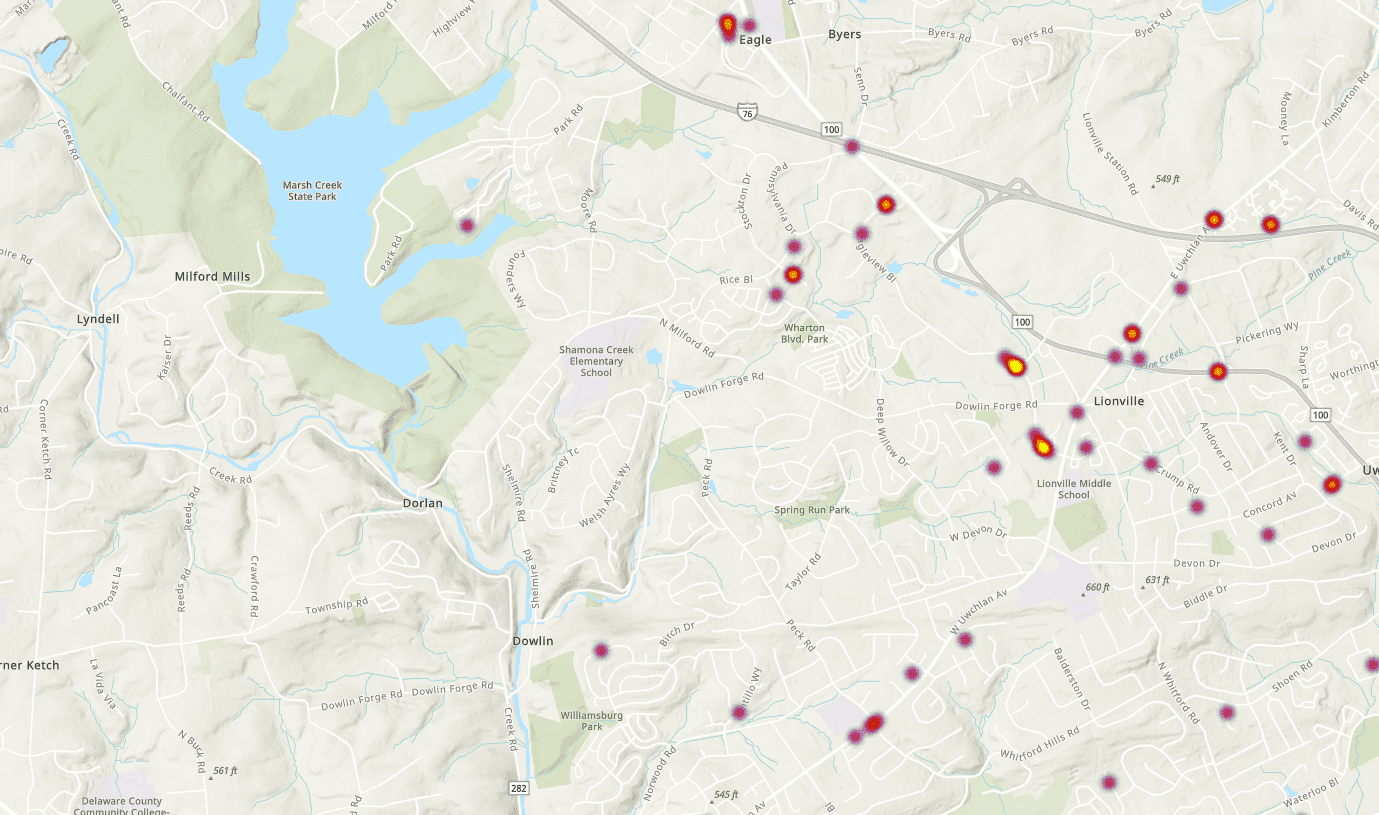 Ready to learn more? Contact Causeway Solutions to get started!