Causeway Cribs: Tim Duer
Where is your Causeway Solutions home office located? How long have you been there?
Dedicated office space in my bedroom – upgraded my set-up back in May when I decided to work for Causeway full time. We have some office space downstairs, but prior to shifting to work from home that became dedicated schoolwork space for my 3 kids. We've lived in this house for 3 years, but we've been in the same town for 15 years: Woolwich, NJ.
What is unique about your home or location compared to the homes of the rest of the company?
When we decided to move houses, but stay in the same town; one of the most important search criteria was the backyard. We wanted something that backed up to the woods so that our kids could head out back and play. We definitely found that in this house; and they've now got a treehouse, creek, and zipline all in the woods. Unfortunately, while the woods were a great backdrop, our patio needed some serious repair. Earlier this year, we had some major construction done, and now have an amazing deck + patio out back for us to hang out on. We try to eat and relax out there on as many nights as possible.
What is your favorite thing about your home or location?
My favorite thing about the house definitely is the new backyard. After 15+ years of commuting daily, it's also great to be around my family more and have some more flexibility with my day while working from home.
As far as the geography goes, I love our proximately to so many other places, while still feeling pretty quiet. We can be in Philadelphia in less than 30 minutes, down the Jersey Shore in just over an hour, and even to DC or NYC in about 2 hours. But I can also be in an open farm and horse pasture in about 5 minutes. We're in that part of New Jersey that actually justifies the "Garden State" nickname.
Location Analysis
Since Tim is our Director of Healthcare Insight, we took a look at his location's health rankings compared to the other counties around him.
According to the data, Gloucester County ranks 15th in health outcomes and 13th in health factors compared to the 20 other counties within New Jersey, and the average life expectancy is about 77.8 years.
Although ranking lower than the counties in the northern New Jersey area, this county actually ranks higher than counties in nearby Pennsylvania and is very similar to those in bordering Delaware in terms of life expectancy, as seen by the similar color scheme in the map.
Digging deeper into the statistics on the food environment, exercise environment, and other factors that can contribute to health reveals some contributors to Gloucester County's standing in life expectancy.
Almost half of the county, 48.5%, have long commutes of 30 minutes or more to work, which fits with Tim's description of his neighborhood being the true "Garden State" location, a spot within driving distance of other notable cities.
Despite significant percentages of people with long commutes, the access to exercise is still notably high with 82.88% of the population having access to locations for physical activity and only 27.7% of the population reporting no leisure-time physical activity. These percentages don't quite match up to the other counties in New Jersey, but they still are impressive percentages compared to other counties in the country, keeping up the New Jersey standard.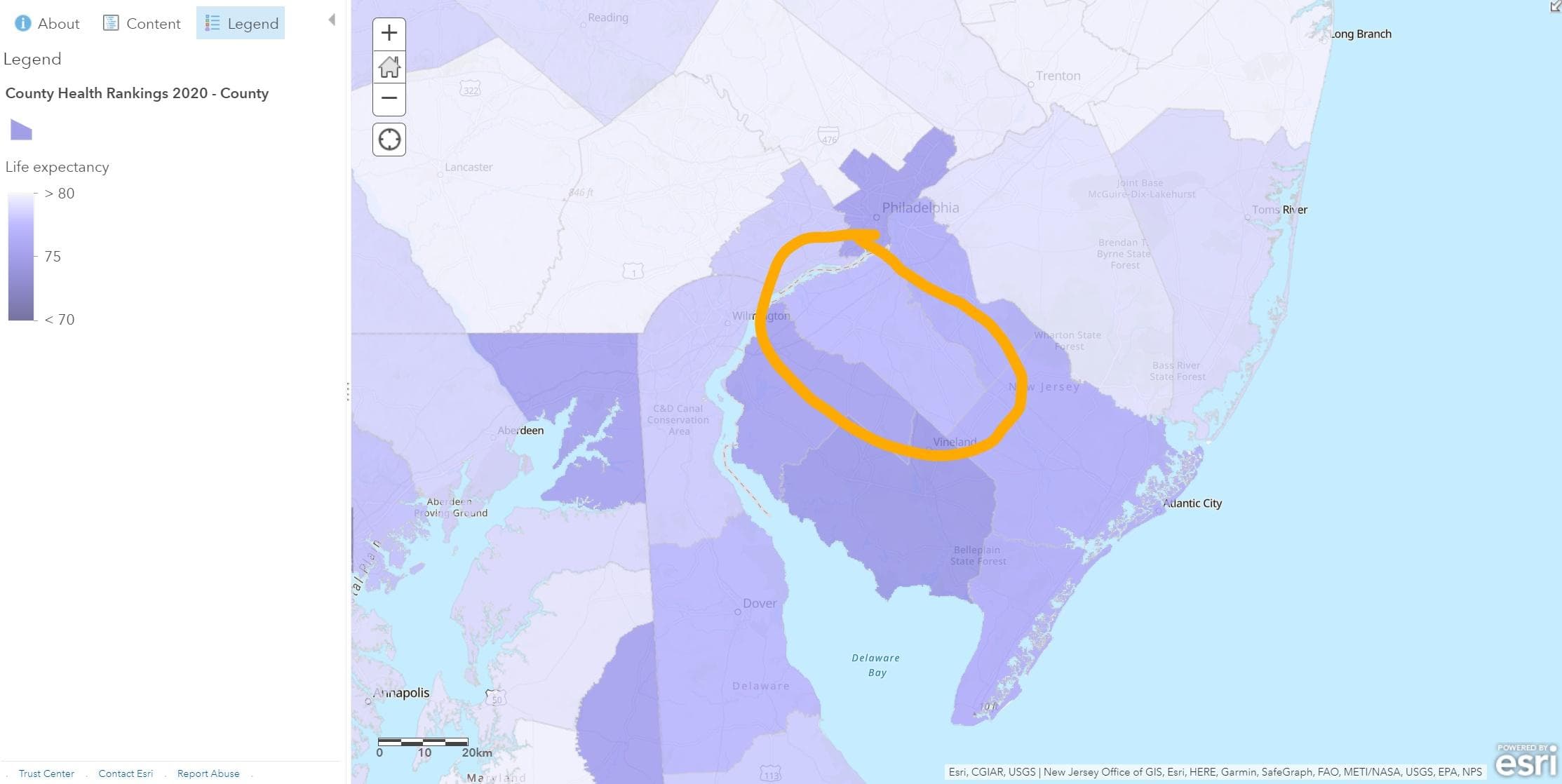 Ready to learn more? Contact Causeway Solutions to get started!