Instant Insights
Causeway Solutions is excited to announce our all-new Outlooks and Insights monthly newsletter as well as our proprietary new monthly survey, Instant Insights! As we navigate our way through challenging times, Causeway Solutions will keep the pulse on what people are doing, thinking, worrying about, and planning. This information will bring you the latest on the concerns, expectations, and interests of your customers.
This month: What makes Esports fans different than the rest of the population? ESports fans are happier and more optimistic. Find out why.
Are ESports the Secret to Happiness?
ESports, or competitive video gaming, is a rapidly growing industry both globally and in the United States. Most often viewed online on sites like Twitch or YouTube Gaming, ESports started out attracting young (often male) gamers as fans, but as it has grown in popularity, the audience has begun to expand as well. In a recently conducted online poll of 600 Americans, half of the ESports audience was under age 35, but an additional 22% was 35-44 – a large segment for an age range that is not considered a prime audience of ESports. Additionally, a full third of the ESports audience was female, which is another sign that ESports is growing its reach from its very male-dominated beginnings.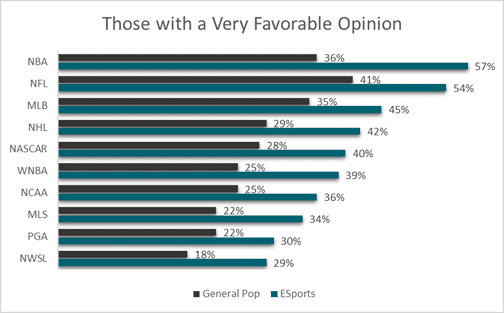 What is perhaps most striking about ESports viewers, though, is their optimistic outlook on everything from sports to the direction of the country.
Entertainment beyond the Esports Arena
It is perhaps no surprise that they are more likely to play video games (95% vs. 79% for the general population) or fantasy sports (73% vs. 46% for the general population), but the interest of this audience extends into other realms as well. ESports viewers are also more likely to be avid fans of sports in general (38% vs. 28% for the general population), more likely to have watched the Tokyo Olympics this summer (85% vs. 68%), and more likely to have very favorable opinions of every major sports league.
But their media consumption does not end with sports. ESports fans are also more likely to have seen a movie in the last 30 days (98% vs. 89% for the general population) – whether that's in a theater (47%) or streaming at home (53%). Their viewership also extends to home, where they are more willing to pay for premium video on demand and are more likely to subscribe to most major streaming services (99% vs. 91%) (above average on all platforms except, interestingly, Peacock, where they have the same subscription rate as the general population).
Eternal Optimism
Most interestingly perhaps is that all ESports viewers are nearly twice as likely as the general population (44% vs. 25%) to say they are very satisfied with the way things are going in the United States at this time. ESports fans are more likely to have confidence in everything from the presidency (60% vs. 49%) to organized religion (61% vs. 50%) to big business (55% vs. 38%). In every category included in the poll, the Esports viewer audience had a more favorable opinion of the situation than the general population.
So, are ESports the secret to happiness? Obviously, this data does not actually prove that, but it is nearly impossible to see that this kind of optimism exists in the world and not feel your own spirits be raised as well. And this world could always use a little more positivity.
We will revisit both Entertainment and Sports in the February edition of the Causeway Solutions newsletter to see what changes occur but keep a lookout for next month's newsletter survey which will focus on the retail sector including shopping behavior, attitudes, and plans for the holidays. The Causeway Solutions August 2021 Poll was based on 600 interviews with adults 18+ in the United States.
Ready to learn more? Contact Causeway Solutions to get started!