Instant Insights
Today's digital landscape has completely restructured the marketing process. Time spent on smartphones and laptops now rivals television, when asked what percent spend 4+ hours per day on a device, 53% said they were on their phones and 42% were on their laptops compared to 47% who spend that time watching television. The digital engagement of today's consumers demands that marketers find a way to utilize different platforms efficiently and effectively to get their ads in front of the right audience. With numerous options for platforms, websites, and more, one way to ensure a successful ad campaign is to get the targeting right by using first-party or third-party data.
Targeting Truths
Targeting has proven it is the way to go. Seventy-three percent of consumers surveyed say they are more likely to pay attention to ads they feel are targeted to their interests, and this attitude is reflected in their actions. On social media and web browsers, about two-thirds of consumers (63%-66%) feel like ads are targeted towards them compared to only 47% on television or streaming television. This gap makes a big difference. Almost half of the consumers surveyed report investigating products or services advertised on social media or websites and an impressive 40%-43% report purchasing from those ads. Only about a third (31%-32%) reported investigating ads from television and only 29% purchased from those ads.
Consumers not only respond, but they also like it! Forty-six percent of consumers believe that they benefit from the data companies use for targeting as opposed to only 17% who believe they do not benefit. Interestingly, when faced with the decision between being served more relevant ads from company-targeting with personal data or having irrelevant ads but more protected data, there is an even split (37% vs 37%) between preferences.
Falling Short of the Target
But be careful how you use this amazing data as targeting is not equally effective across all types of marketing content. While 60% of consumers believe that targeted ads for products and services do accurately reflect their interests, only 47% of consumers surveyed believe the same for political ads. Furthermore, a solid 20% never pay attention to political ads on any platform compared to the average of only 13% who say the same for consumer ads.
Political marketers are also at a disadvantage when it comes to digital audience insights. Facebook and Google restrict political targeting and offer little to no insight into voter behaviors and beliefs. Consumers feel differently in the political arena too, unlike in other areas they are reluctant to volunteer their data to political organizations. Only 28% of consumers surveyed report they have given their email to a political campaign to allow for targeting compared to the 56% who have given their email to a commercial company.
Digging deeper, we see that political targeting gets even murkier based on party. When asked if targeted political ads reflect their interests accurately, 68% of Democrats believe that they are accurate, while only 45% of Republicans and only 30% of Independents think the same. Democrats even believe that targeting accurately reflects them very well (28%) more than double the percentage of Republicans (12%) or Independents (10%).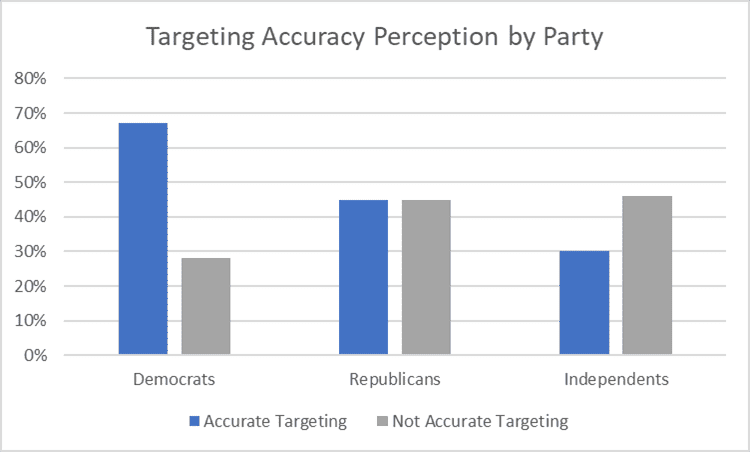 Conclusion
As the digital world continues to grow and take up more of the consumers' attention, marketers have to become more diligent with their data and their targeting. Consumers now recognize targeting and are likely to respond to it, they even acknowledge the benefit of good targeting and understand the trade-off between effective targeting and online privacy. Despite this obvious advantage for digital marketers an astounding 76% reportedly fail to use behavioral data for online targeting. It is also imperative to understand each vertical, for example, the clear discrepancies in political parties create an important opportunity to fine-tune how the data is used. It is up to analytics companies like Causeway Solutions to ensure that campaigns for consumers goods or elected officials make sure they leverage the best data to reach the right people with the right message.
To learn more, visit Causeway Solutions to get started!