Causeway Solutions Sports Fan Profile
Causeway Solutions conducted a survey to get a read on American consumers and their feelings about the favorite American pastime – SPORTS! The franchises included were the NBA, NFL, MLS, WNBA, MLB, MHL, NCAA, NWSL, PGA, and NASCAR. The following report highlights some of the results.
SPORTS AND THE CORONAVIRUS
The Coronavirus has had a devasting effect on American Sports, but fans continue to hold onto hope and watch what they can in the new formats that are available.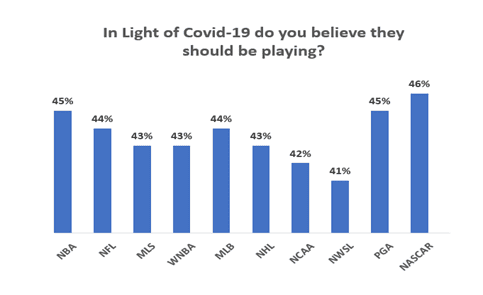 When it comes to watching live sports in a bar or restaurant, 30% of total adults said yes. Now that the vaccine is out a lot more people will be ready to watch live sports in bars and restaurants.

Over 60% of all adult's think that given the impact of Covid-19 sports will be forever changed.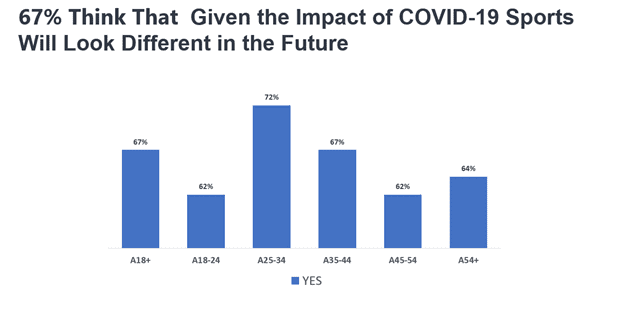 SPORTS MARKETING
If you are marketing your players to fans, talk to those under 40! When asked if they have ever purchased a product or service because it was endorsed by an athlete 67% of A18-24 said yes. That number goes down to 20% for A54+. When asked if they have purchased a product from a company because they are a sponsor of a favorite team, the numbers are similar with 62% of A18-24 saying yes compared to only 20% of A54+.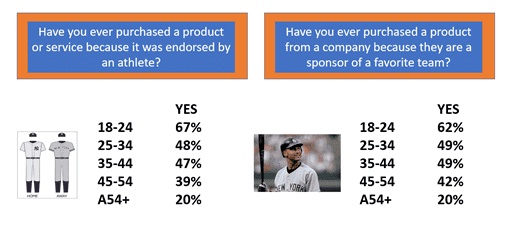 Another interesting fact is that A18-24 care a lot more about players than total adults do in every sport. The sport with the most A18-24 who care about the players is the NBA at 31%. In general teams get more fans, for example 47% of the population has purchased a product because of an NFL team and 45% for MLB teams. Other sports such as the MHL and the NCAA also draw over forty percent of fans saying teams influence their purchase.

We also asked how fans prefer to watch live sporting events today and Live TV is by far the number one method followed by Live Streaming and In Person.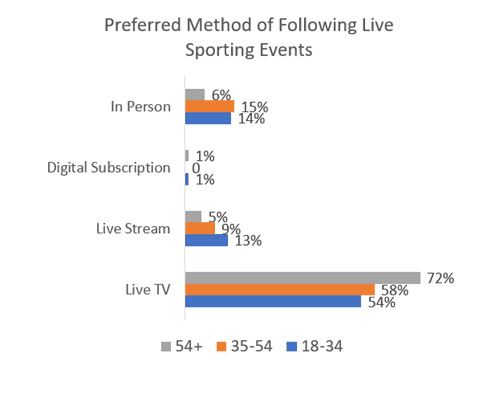 SEGMENTING THE CONSUMER
One of the other key influencers on sports fan behavior is where they live. As we all know some markets are more sports oriented than others and fans come in all shapes and sizes. An interesting way to view the data is to create fan segments. For example, we looked at Young Cleveland Dads (demographic breakdown below) to see if they were any different than Wisconsin Dads (demographic breakdown below) and the answer is yes. In Wisconsin it is all about Football where 37% of these fans follow football compared to Cleveland where only 26% do. Comparing a state and a DMA and seeing variances could say that football extends beyond where they are playing. The Wisconsin dad is also more likely to say they love spectator sports at 71% to the 55% in Cleveland. Nine percent of the Wisconsin Dads said they buy sports memorabilia and 7% of the Cleveland dads do. The demographic, lifestyle and geographic impact of todays consumer and their corresponding behavior in the sports world is clear.
In addition to what we have shared here we also asked about the popularity of sports, whether people have planned trips and or vacations around a visit to a sporting event or stadium and how people feel about sports and Social Justice.
Cleveland Dads = M18-34 with children and HH income of $50K+
Wisconsin Dads = M45+ with children and HH income of $100k+ and college education or better
Ready to learn more? Contact Causeway Solutions to get started!