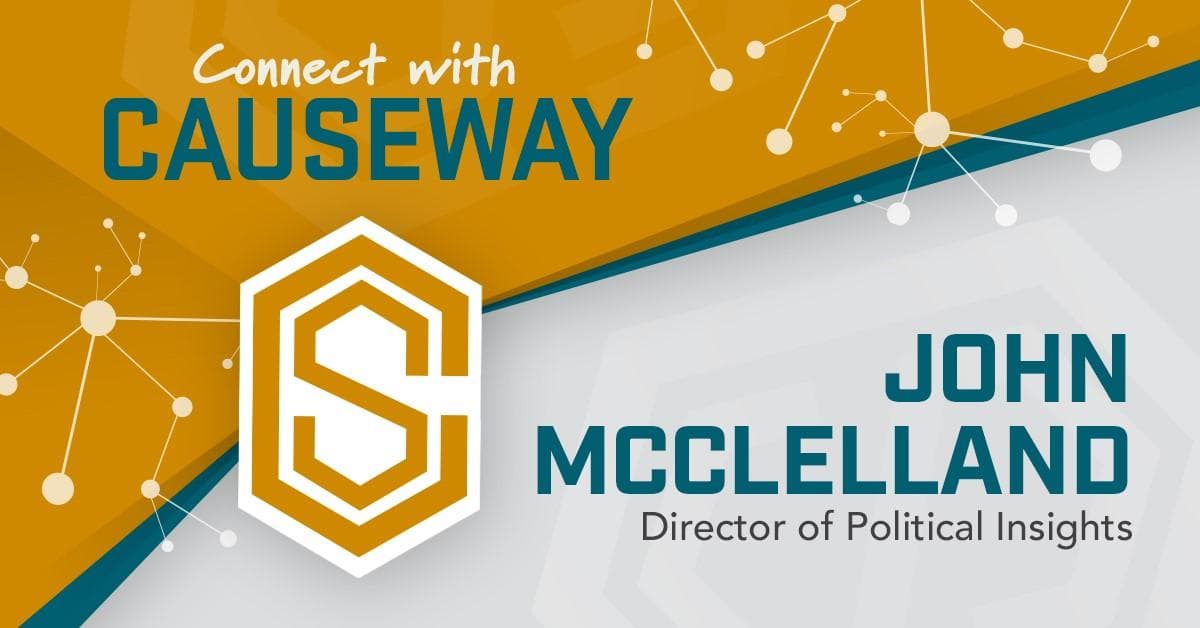 How long have you worked at Causeway?
Officially I started just a few months ago, but I have worked with Causeway for the last few years in my previous role. It's like the old Hair Club for Men slogan, "I'm not just a spokesperson, I'm also a client!"
What would you say you do here?
I help people who have a passion for public service and advocate for the ideas and issues they care about.
What is your most memorable experience at Causeway?
Getting to know all my new colleagues and making new contacts across the country.
Do you have a spouse? Children? Pets? Plants?
I have a wife, three teenagers, and a dog, so life is pretty busy.
Where did you grow up?
I grew up in Indiana, Pennsylvania. It's about an hour northeast of Pittsburgh and is the hometown of Jimmy Stewart, famous actor and decorated WWII hero.
Where do you live and what is one thing you love about it?
I currently live in New Albany, Ohio, a suburb of Columbus. We live close to the town center, so it's very convenient for us to walk to restaurants, school, and local events. It's a community with a lot of civic pride.
What do you like to do when you are not working?
I enjoy reading non-fiction and biographies. It's amazing what you learn from history. I also love spending time with friends over a good bottle of wine or a spot of whisky. My kids play a lot of lacrosse, so usually, when I'm not working, I'm most likely at a field or tournament.
Did you take up any quarantine hobbies, and, if so, did you stick with them?
This may age me a bit, but during quarantine I took up the NYT Crossword and puzzles. I don't do as many puzzles because of the time commitment, but I've stayed pretty religious about the daily crossword.
Where is the next place you plan to travel for fun?
No question, if I were to pick one place to unplug, it would be in the Outer Banks of North Carolina. Not much to do there but enjoy the sun and relax. And in this hectic world, a place like that helps you recalibrate and focus on the things that are most important in life.
Ready to learn more? Contact Causeway Solutions to get started!