FIFA Women's World Cup Is Here!
There's no denying FIFA World Cup is a global phenomenon. In fact, Washington, DC bars will stay open 24 hours during the 2023 World Cup series.[1]
However, here in the U.S., soccer is still a burgeoning sport – this despite the United States Women's National Team (USWNT) going for a three-peat as World Cup champions.
In a study conducted by Causeway Solutions in June of 2023, we found that only 13% of the general population said that they follow Women's Soccer in any way. Only 1% of the population says they follow it closely, 4% somewhat closely and 8% follow but not too closely.
Get help with your Sports Marketing Playbook!
Looking deeper into this group we uncovered interesting differences. Women's Soccer followers are more likely to be under 50 with the highest indexes in the 25-34 and 45-54 age brackets.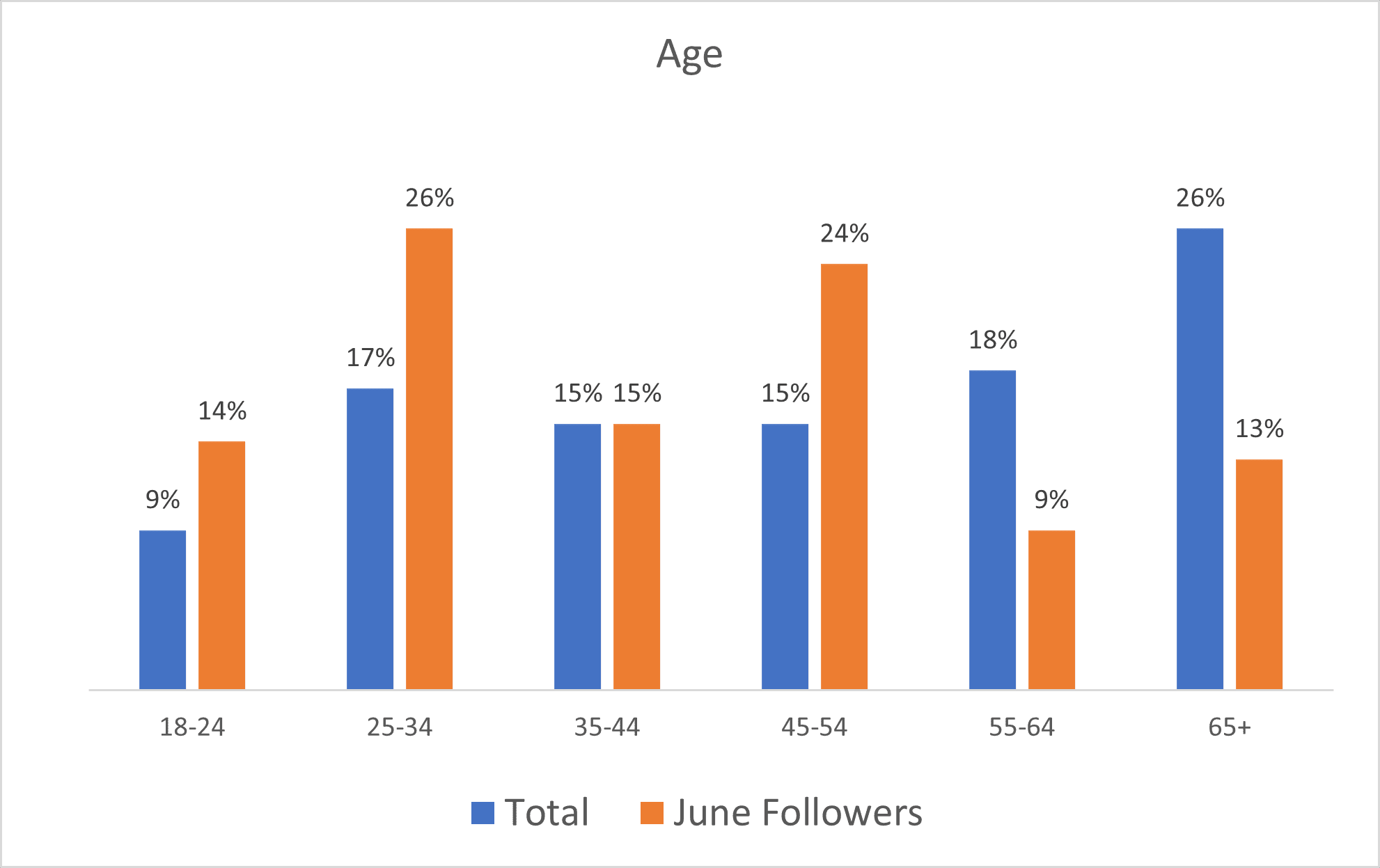 Source: Causeway Solutions June 2023
A recent report from SalesFuel shows women's soccer fans are fairly evenly divided when it comes to gender with 54% male and 46% female. The largest percentage of fans are 25-34 (28%) followed by 35-44 and 55+, which is similar to the Causeway Solutions study.[2]
The other interesting difference is those who said they follow Women's Soccer, 31% of the male soccer fans are 25-34 compared to only 20% of the female fans. But for those under 24 only 9% are men and 20% are women.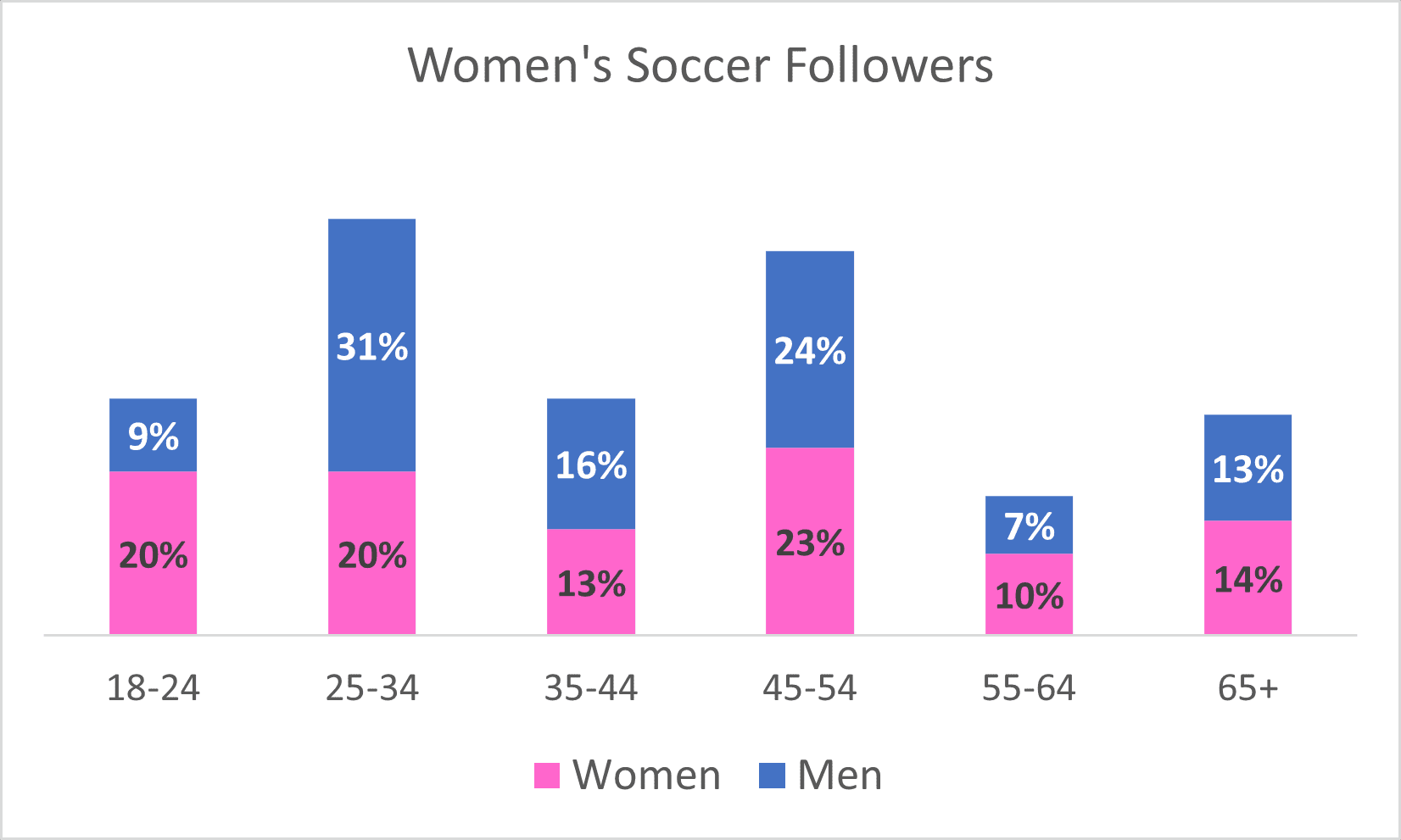 Source: Causeway Solutions June 2023
In 2019, Gilted Soccer reported that at least 23% of U.S. female soccer fans are Hispanic and 47% hold a college degree. These soccer fans also enjoy an average household income of $80,362.[3]
When comparing women's soccer to men's soccer, a 2023 study from SalesFuel found that the U.S. men's national soccer team's attendance averaged 25K per game. While the USWNT averaged only 10K per game in 2022. That was up from 5K in 2021 and 7K in 2019.[4]
It will be interesting to see attendance during the 2023 World Cup.
Despite the small numbers, the women's soccer fans shouldn't be ignored. A study by Nielsen shows 42% of women's soccer fans actively seek out information on the brands that sponsor the sport, and 61% believe that sponsors gain the favorable attention of the audience. The conversation also continues on social media platforms. Of all the conversations surrounding women's soccer teams, 58% are driven by women. On Instagram, 60% of posts are also driven by women. Brands can fuel their own conversations on their social media pages surrounding the soccer games.[5]
No matter what the research and statistics show, this summer's competition is sure to be of interest to the U.S. fans as our own female athletes compete to maintain their championship status yet again!
Level up your sports marketing and request a complimentary Discovery Session.
Sources:
[1]: "Washington D.C. bars to stay open 24 hours for 2023 World Cup in Australia," New Zealand, USA Today
[2]: "Targeting the 13% of Americans Who Are Women's Soccer Fans," SalesFuel
[3]: "Female Passion Report," Gilted Soccer
[4]: "Targeting the 13% of Americans Who Are Women's Soccer Fans."
[5]: "The Rise of Women's Sports," Nielsen
To learn more, visit Causeway Solutions to get started!