Paging Doctors Mars and Venus: Men Versus Women on Healthcare
Regardless of topic, gender frequently drives differences. At Causeway Solutions, we've found this to be true in many areas of healthcare: from how knowledgeable people say they are about benefits, to how satisfied they are with their current insurance plans.
To learn more about men's and women's experiences, we conducted a national survey that asked about a variety of aspects of healthcare. The results confirmed that, in many areas, both sexes have very different experiences.
Let's start with how well people understand their plan. 31% of the population said they understand it very well while 40% of males did, but only 28% of women.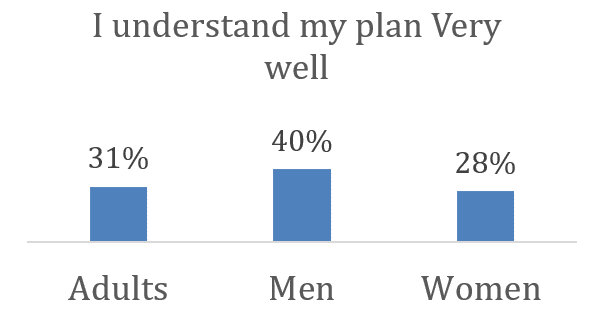 Satisfaction was also different. When asked how satisfied they were with their current plans, only 35% of women said they were very satisfied, as opposed to 43% of men.
Men are more likely to say they are "in the know." 32% of men said they understood expected costs prior to a medical visit, compared to only 19% of women.
We learned that women are more likely to feel equally comfortable in a surgery center or in a hospital. When asked whether they'd prefer having a minor surgery at a hospital or an offsite surgery center, 43% of women chose the offsite surgery center, compared to 36% of men. 50% of the men said they would prefer a hospital compared to 42% of women.
What do both men and women agree on? How far they are willing to travel. When asked how far they would be willing to travel to see a primary or specialty care provider, men and women were on the same page.

Choice of insurance also mattered. Medical insurance profiles show that 43% of men and 55% of women have group insurance through an employer, while 36% of men and 28% of women have either Medicaid or Medicare. Having a Medicare advantage plan is also very different for men and women; 69% of men verses 54% of women have them.
What about preferred care settings? Men and women were on the same page for non-emergency care telehealth at 17% and 16% respectively but disagreed on hospitals versus doctor offices.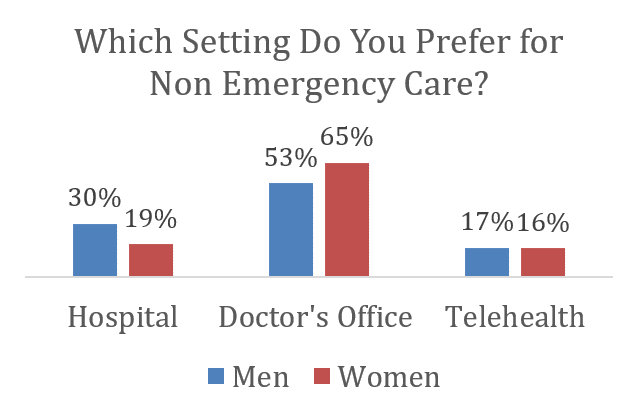 Recognizing these preferential differences between the sexes can help us better understand today's consumer, as well as how they choose healthcare services. This is especially true in the wake of the COVID-19 pandemic, which is shaping healthcare attitudes, services, and structures as we speak.
Causeway Solutions can help you navigate this age-old battle with modern, data-driven strategies that explore the who, what, and why of an audience. Contact us today to learn more.
Ready to learn more? Contact Causeway Solutions to get started!