The Female Sports Fan!
As gender equality in sports continues to evolve, a recent article from Nielsen showed that it still has a long way to go. According to Nielsen, not only do fans broadly expect leagues, teams, and athletes to take a stand on societal issues they care about, but 61% of fans in the U.S. specifically name gender equality as the cause they are most passionate about. The study went on to look at Women's Soccer and other sports. In our research, we found that when women are asked if they have a favorable or unfavorable opinion of the National Women's Soccer League, the younger the women, the higher the percent who said they had a very or somewhat favorable opinion, with 32% of the W18-24 leading the group.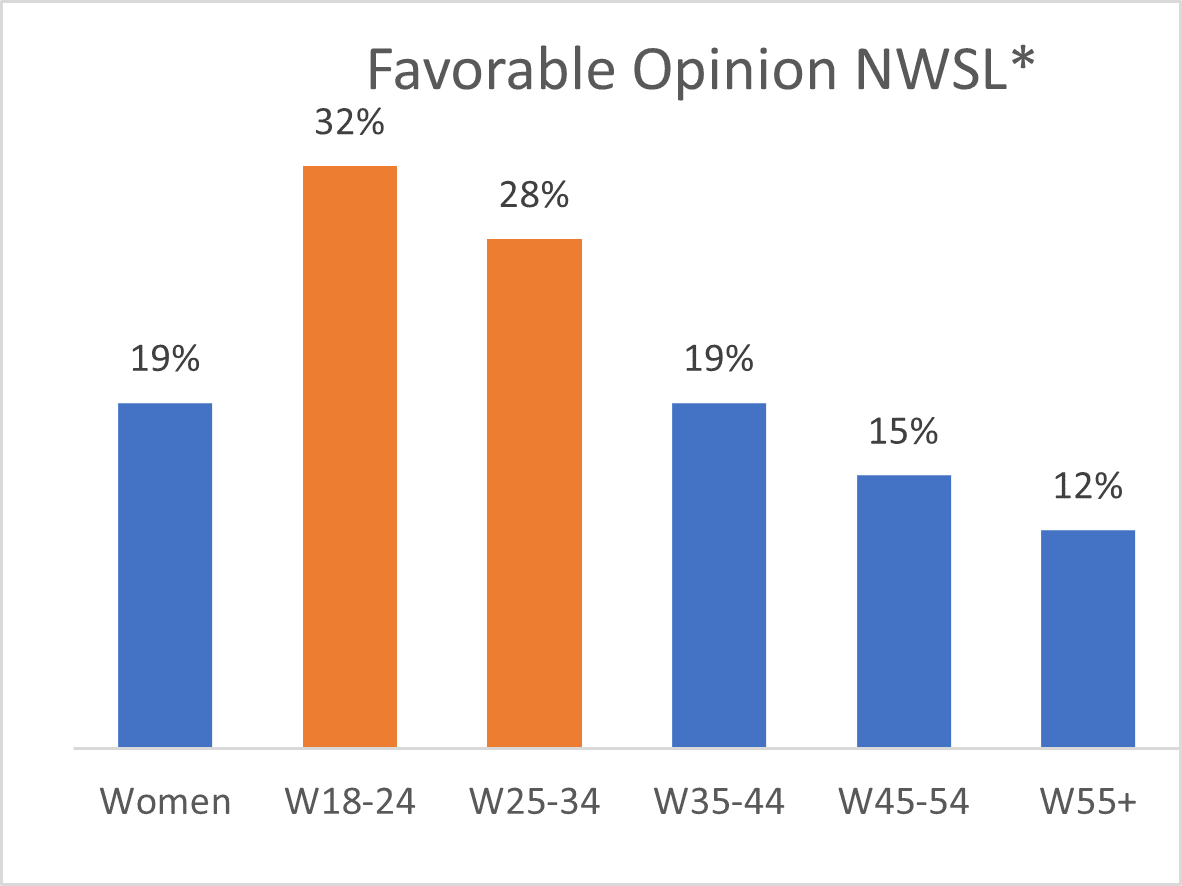 *very or somewhat favorable
This article gave us the idea to look at sports research we have done to better understand the female sports fan. We decided to profile all of the women who said they enjoy watching Football, Basketball, or Baseball to see how they differ from total women as well as the average adult. Here is what we found: The "Sports" woman is very similar to both of the other groups in many areas, but she is slightly older and better educated.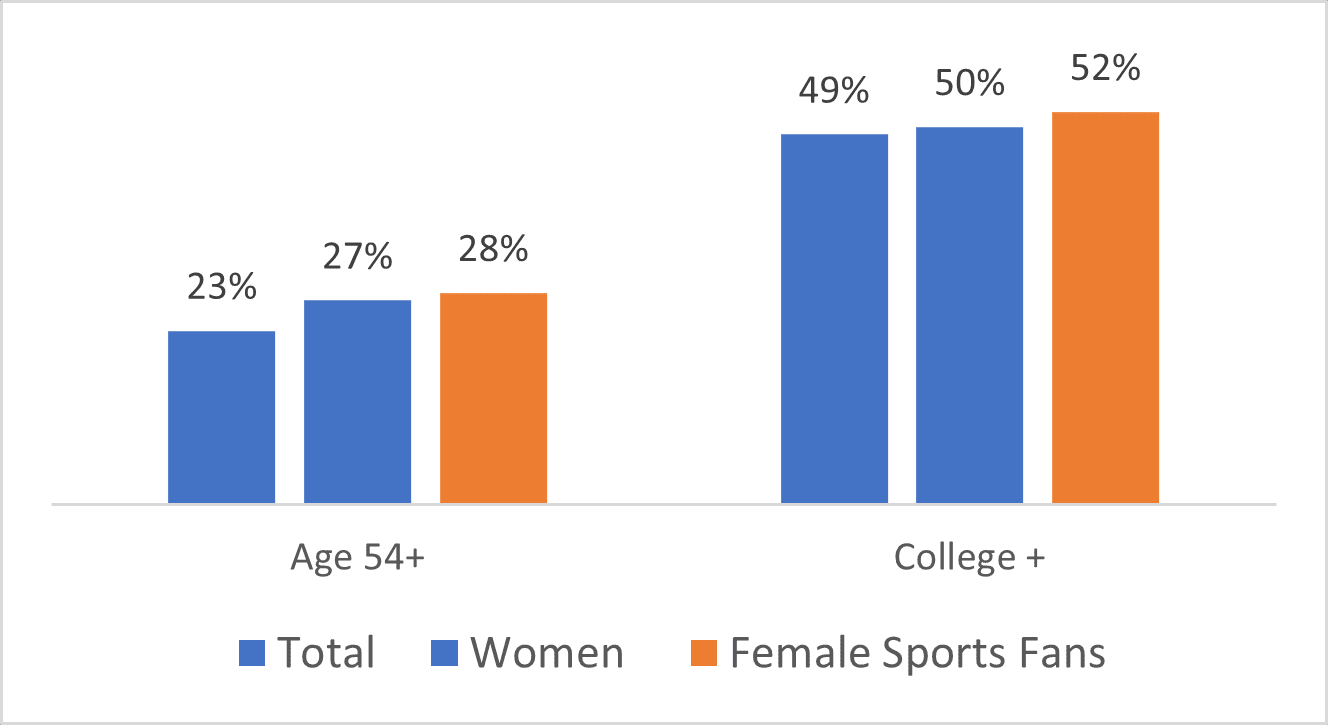 Outside of demographics, we found more significant differences. Some of these were expected, such as the fact that "Sports" women have a more favorable opinion of the NBA, NFL, WNBA, and MLB than their "non-Sport" oriented sisters, but what was surprising is that in the case of the NFL, they have a more favorable opinion of the league than total adults do. The following chart shows the percentage of those who have a VERY Favorable Opinion of each sport listed.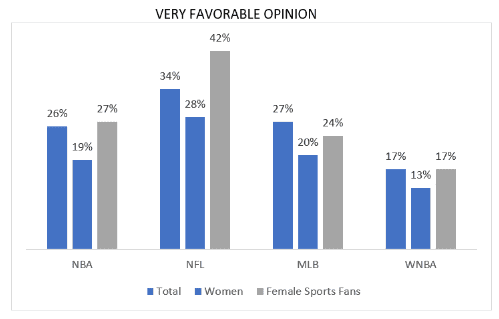 Other areas where the female sports fan differed from other groups varied. One of the areas where they are different is in their opinion on social justice, where 65% strongly or somewhat strongly support athletes speaking out while only 59% of total adults do.
When asked about how things are going in the U.S. today, 60% of female sports fans said they are somewhat or very dissatisfied with the state of the U.S. compared to only 55% of total adults. Confidence in various institutions also differed from the general population, such as when asked about Big Business, where only 20% had a great deal or quite a bit of confidence compared to 28% of the country, and the Presidency, where only 29% of the female fans felt positive versus 33% of total adults. We asked how they felt about athletes speaking out on social justice and found that they are more likely than both Total Adults and Women to support this freedom.

Leisure time behaviors showed that fans of all types enjoy sports gambling. When asked which of the following platforms they currently use, the answers might surprise you. It turns out that "Female Sports Fans" are Less Likely than both total adults and women to play almost all of the popular offerings and only tie with women at 9% for BetRivers.
Female sports fans are also subscribers! Only 59% of total women subscribe to Netflix while 68% of the female sports fans do. We see similar differences with female fans more likely to subscribe to Amazon Prime and Hulu.
Consumers are surprising. Whether it be what they watch, how they feel, or what they play, it is always important to check the data to best understand how to talk to them, where to find them, and how to connect. Contact Causeway Solutions for more information on how we can help you better understand your consumer today, tomorrow, or whenever you need it.
For the final profile take a look at who each sports fan is! Enjoy!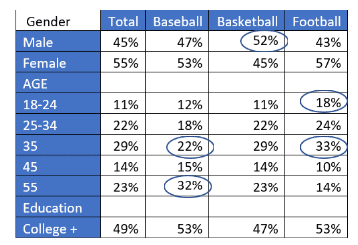 To learn more, visit Causeway Solutions to get started!