The Future of Smart Segmentation for Healthcare Marketers
For healthcare marketers, we're being asked to do more with less—even as demands for new patient acquisition increases. Smart marketers know improved audience segmentation and more highly personalized messages will deliver better return on ad spend.
However, healthcare marketers must adhere to HIPAA patient data protections. While a consumer who's shown interest in shopping for running shoes will be retargeted and served up ads for athletic gear as they browse the internet, healthcare marketers can't retarget patients using their health records.
That's the reason we created Advanced Audiences.
We've redefined audience targeting—going beyond traditional demographic segmentation by combining customized research regarding lifestyle and behaviors plus predictive modeling and proprietary machine learning algorithms.
Our Advanced Audiences for Healthcare provide HIPAA-compliant, individual-level data to create campaign strategies for multi-channel marketing campaigns.
We help you gain affordable access to patient acquisition strategies through crowd-sourced funded data! With no subscription required, Advanced Audiences are available through your preferred digital media platform.
Here's an example of HIPAA-compliant, individual-level data:
Willing to Use Retail Health Clinics by Household Income
27% of people in the U.S. are willing to use retail health clinics.
People with annual household income above $75k are more likely to use retail health clinics.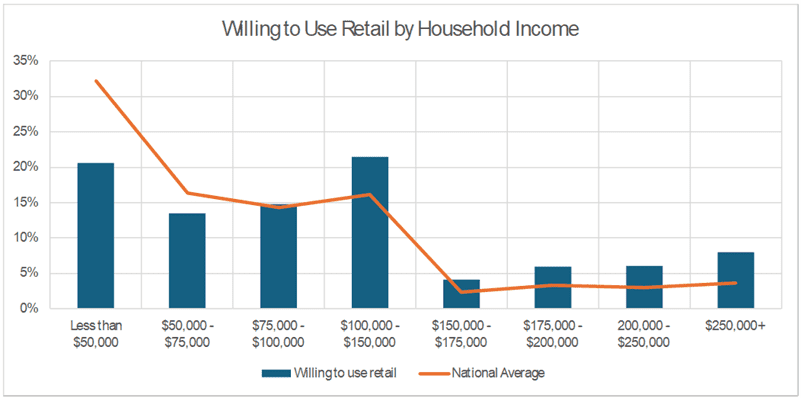 Download our "Guide to Advanced Audiences for Healthcare," which contains a list of more than 70 exclusive healthcare audiences available now.
Find out how to reach people most likely to use cardiologists, neurologists, orthopedics, radiology, seek a second opinion for care and more!
Please contact me directly, [email protected], to learn more about Advanced Audiences and request a complimentary Discovery Session.
To learn more, visit Causeway Solutions to get started!