Unveiling the Fan Power for FIFA Women's World Cup
Excitement for FIFA Women's World Cup is reaching a fever pitch among sports enthusiasts worldwide. We conducted a comprehensive survey to understand fans' plans for FIFA Women's World Cup. The results are in, and they reveal a fascinating tapestry of emotions and expectations from fans across the country. Join us on this data-driven journey as we explore the diverse sentiments surrounding women's soccer (known as football outside the U.S.).
Understanding the Fans
In our quest to comprehend the level of enthusiasm for the FIFA Women's World Cup, we reached out to over 800 potential soccer fans from various corners of the country. These fans represent a vibrant tapestry of cultures, backgrounds, and soccer traditions, making the survey results even more intriguing.
From our results, we found 37% of respondents said they planned to watch the FIFA Women's World Cup to some degree, and we found 3 distinct audiences of potential viewers: Passionate Devotees, Team Loyalists, and Casual Enthusiasts.
1. Passionate Devotees (8%): 8% of respondents who have an unyielding love for women's soccer. They watch as many games as possible, regardless of the teams playing. To them, every match is an opportunity to marvel at the skill and talent exhibited by female athletes on the global stage.
Fun fact: Passionate Devotees over index on non-white demographics, with 16% Black, 16% Hispanic, and 7% Asian respondents. They also comprise 52% of millennials (including Gen-Z).
2. Team Loyalists (9%): For the Team Loyalists, the FIFA Women's World Cup is a chance to express unwavering support for their favorite national teams. Comprising 9% of respondents, these fans eagerly await the games in which their team takes the field, prepared to cheer them on with unbridled enthusiasm.
Fun fact: Team Loyalists over-index on Asian demographics, with 16% Asian respondents. They also represent 56% of those with a college degree, and 75% are Gen-X or millennials.
3. Casual Enthusiasts (20%): The Casual Enthusiasts make up a significant portion, accounting for 20% of respondents. While they may not follow every match religiously, they look forward to catching a few games when it's convenient. Their interest in the World Cup is genuine, but other commitments may limit their viewing schedule.
Fun fact: Casual Enthusiasts over-index on Asian demographics, with 13% Asian respondents. They are also a diverse age group, with 32% millennials and representation from Gen-X, Boomers, Post-War, and Gen-Z.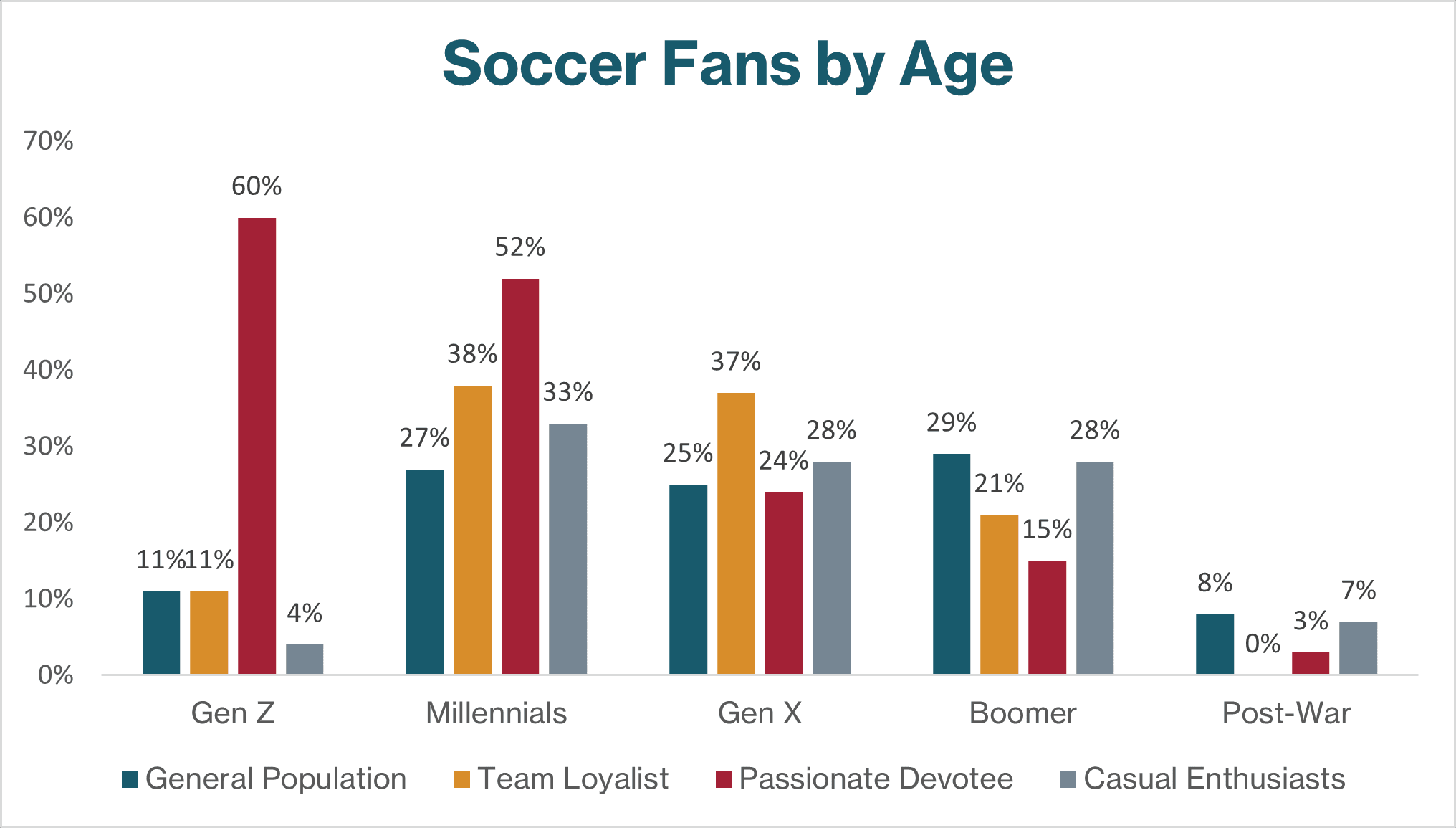 4. The Uninterested Majority (63%): Surprisingly, a significant majority of respondents—63% to be exact—indicated that they do not plan to watch any of the upcoming FIFA Women's World Cup. For various reasons, this group of individuals remains uninterested in the event and prefers to divert their attention elsewhere. Age profiles show they are most likely to fall into the Baby Boomer Generation.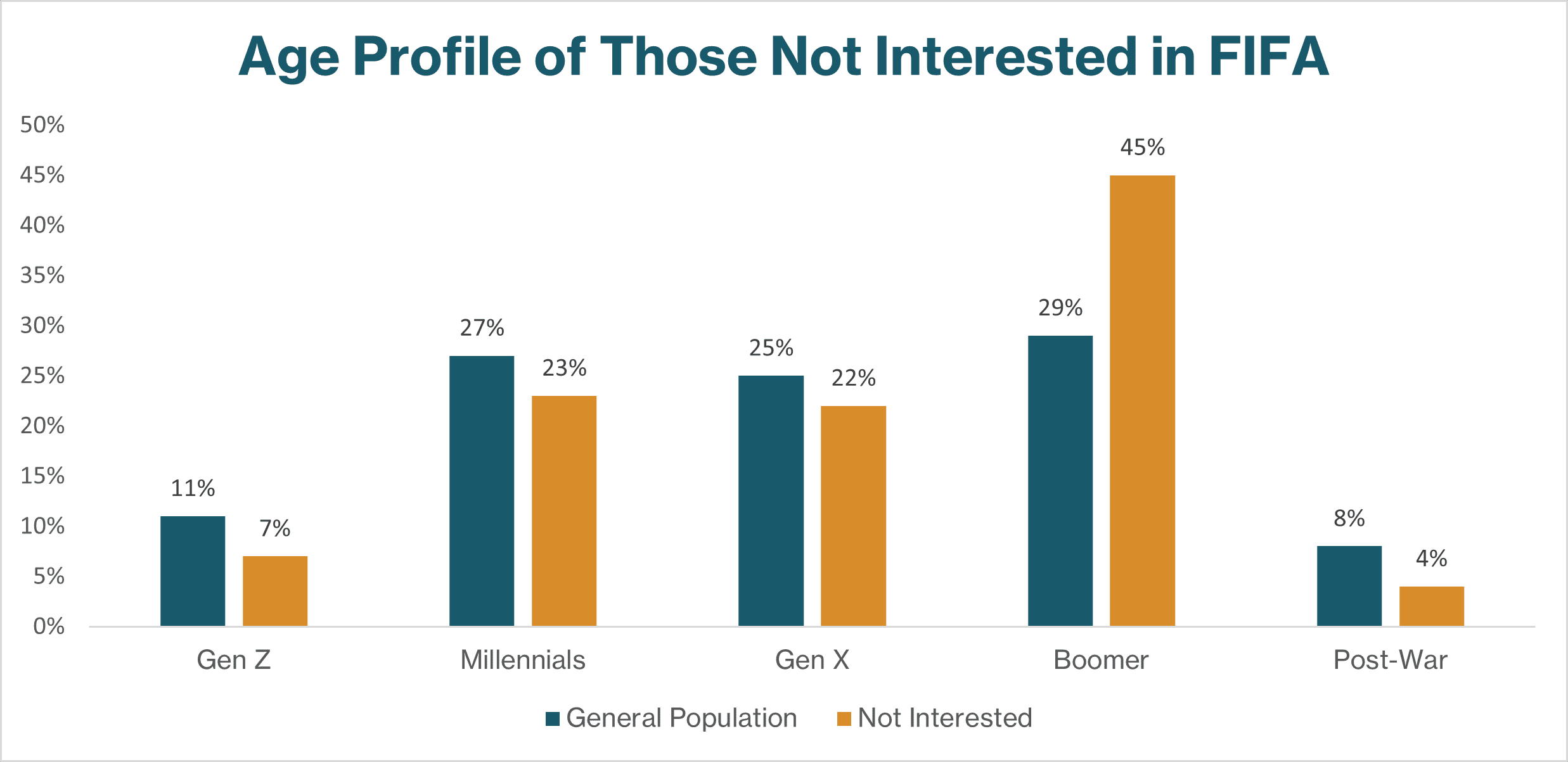 Loyal Fans and Their Digital Entertainment Preferences
Beyond the thrilling matches, Loyal Fans engage with their favorite teams through various digital channels. They have a strong affinity for video streaming platforms, with 58% personally subscribing to Netflix, 45% to Hulu, and a remarkable 62% to Amazon Prime Video.
Interestingly, Loyal Fans not only subscribe but also share their favorite content, with 12% sharing Netflix, 8% sharing Hulu, and 12% sharing Amazon Prime Video subscriptions. Furthermore, these devoted fans have a prior history of engagement, with 12% receiving Netflix for free and 13% having subscribed to Hulu in the past.
The Impact of Higher Household Spending
Loyal Fans also are more likely to spend! When asked about spending since last month, 30% said they had spent more while only 21% of the general population said they had spent more since last month.
As the FIFA Women's World Cup continues, we celebrate the transformative power of Loyal Fans and Casual Enthusiasts in shaping the global soccer experience.
Let us help you create the playbook for your sports marketing. Whether you're trying to reach soccer fans, baseball, football or eSports enthusiasts, we leverage predictive and prescriptive modeling to help you score big with your target audiences.
To learn more, visit Causeway Solutions to get started!